I want to start off first by thanking the pioneers in this hobby that have shared their experience and methods for DIY projects like this, on this website, FB and other sites as well. I've learned a lot and have considered every option until finally making decisions to go forward.
The concept is a US Native local biotope tank housing darters, minnows and shiners. My goal is to mimic and undercut bank with an eddy that flows against a shale rock face. I am building this currently outside of the tank in four sections so that I can install it into the tank easily (due to the center brace on the top frame of the tank).
As far as the background build, it's kind of been a learn as I go type of thing. This is still a work in progress. I basically created a tank frame out of hobby foam board to match the dimensions of my tank, then carved a piece of board at at time, starting with section one on the right side working left. I used Gorilla Glue to bond each layer together. I also used wooden skewers to help me visualize and keep things in place until I liked what I saw, then replaced them with plastic popsicle sticks cut to fit, then glued them in place. This was to make the structure more solid and workable outside of the aquarium. Also, as a note, Gorilla or Duct tape make for good temporary ways to hold things together.
My goal with the rock face was to mimic shale that wasn't in a horizontal plane. Attempting this has challenges with keeping the structure consistent and together, so that's why I did it a layer at a time.
My initial carving is in the pic below. I used a similar technique to one that I saw on another forum, using the existing grain of the foam board in my favor, chipping away to get the shale rock effect. One key is to eliminate straight lines, 90 degree shapes, etc. because they're relatively rare in natural rock.
This is actually the 2nd section. I was using my tank frame for support to get a feel for what it would look like.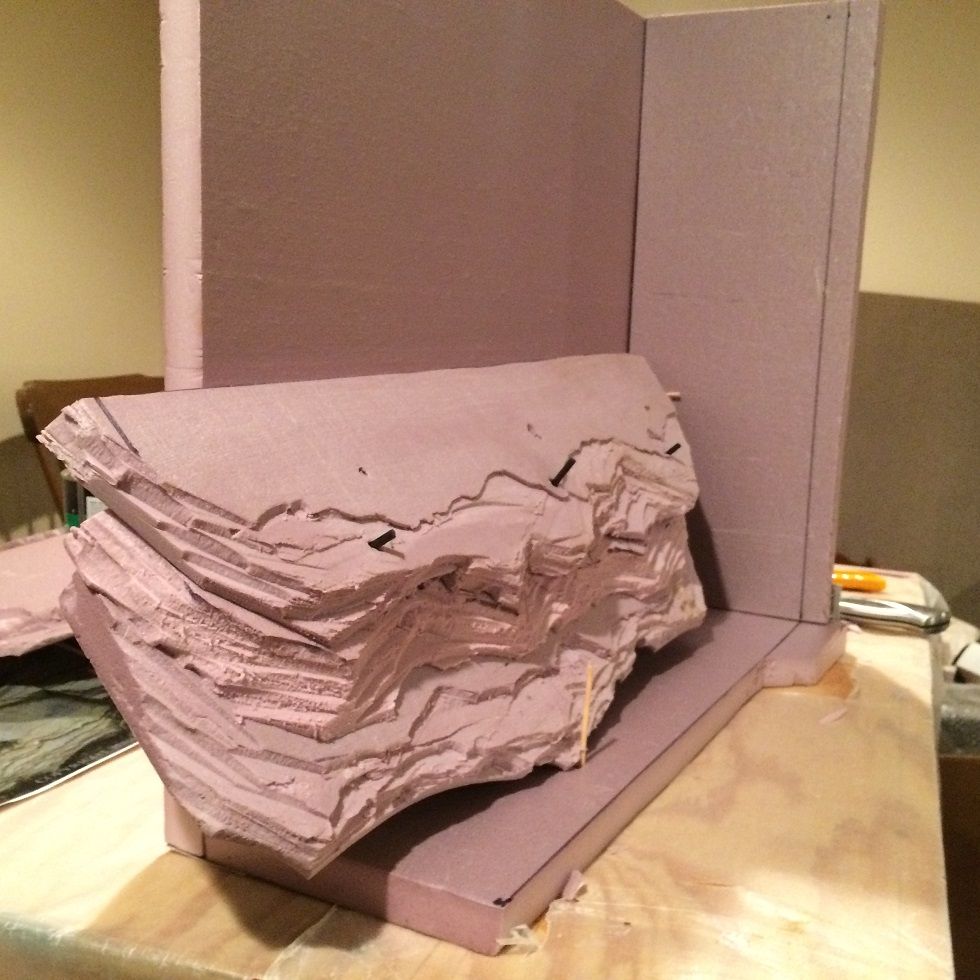 After that, I decided to work on sections 1 and 2 at the same time:
I also did a lot of experimenting along the way. I tried to see what effect a heat gun would have on my work (test pieces). I like the look, but I later decided not to use it for this purpose. Maybe I will later when I work on section 4: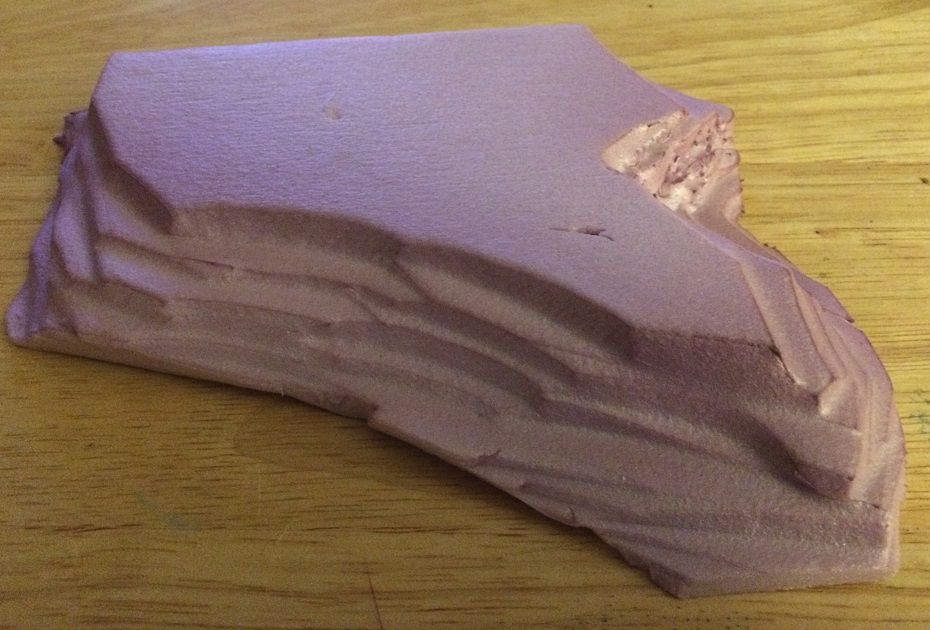 This picture shows the plastic popsicle sticks that I glued in for extra structural support:
This pic shows how Gorilla Glue is applied, and how I've incorporated the popsicle sticks. Gorilla Glue expands, so keep that in mind (not as much is needed as other glues), and weighing it down helps to keep the gaps between your faux shale layers from expanding too much: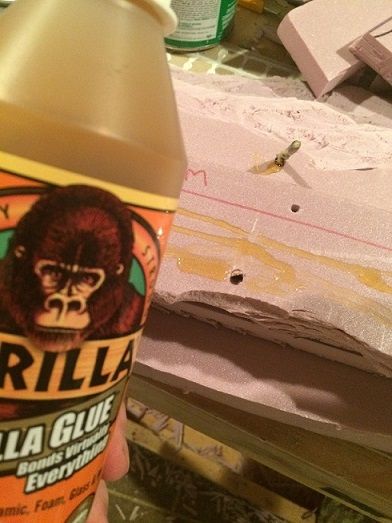 Sometimes accidental discoveries lead to experimentation. Here is a picture after I used a heavy cement block from another DYI project for weight to keep the Gorilla Glue from expanding that left a cool impression that looks more like a rock face than the actual foam board that I started with. It gave a rock like texture without much effort: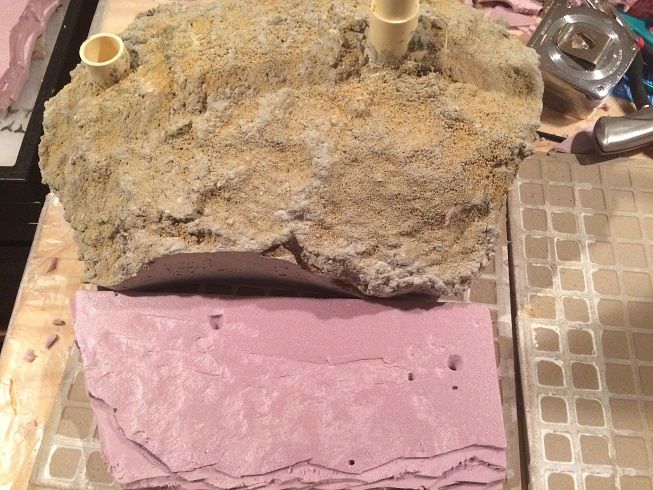 So, I got to thinking, what else can I do? Around my area, you can find different fossils in the rocks in some of our streams, like brachiopods, crinoids, trace fossils (like worm burrows), bryozoans, coral, and other bivalves. Some things around the house might allow you to create your own fossils. Springs bend and make for nice crinoid stems (large screws are OK for making pieces of stems), sea shells for bivalves (and brachiopods if you have them, otherwise being creative with clams can imitate them), coral for coral and bryozoans, and worm trails for...er...worm trails!
Drylok, from what I hear, and we will see, will allow you to capture a pretty good amount of detail. So be creative! Here are some faux fossil examples: