Concept:
One of my dreams was to duplicate the oyster reef environment of the Chesapeake Bay as best I can without predation on my featured fish. I had a tank and sump built for this a several years back, and almost finished a stand but personal troubles in my life have caused me some delay. The tank is a 101 gallon cube (36"X36"X18"), and the sump/refugium is 36"X18"X17". The tank and sump will have live sand from the Chesapeake Bay. I purchased an LED fixture that duplicates lunar cycles, daylight and nighttime lighting transitions and seasonal variances in an attempt to induce spawning behavior.
Right now, this will be a fish only tank until the tank is established, then I might add an oyster or two, or perhaps mussels, tunicates, sponges, gorgonians etc. although I realize that I'd have to find some way to supplement feeding. The sump will contain macro algae found in the Bay. I also plan to have macros in the display tank.
Animals will be collected from the Bay that live side by side in this environment.
The stocking list is as follows:
Several striped blennies,
Chasmodes bosquianus
, that will be the feature fish of this tank
Feather blenny,
Hysoblennius hentzi
, if I'm lucky enough to catch any
Naked goby,
Gobiosoma bosc
Skilletfish,
Gobiesox strumosus
Hogchoker
Killifish or Sheepshead minnows
Northern pipefish (will live in the fuge but not until the tank is established)
Ghost shrimp, mud crabs, hermit crabs, snails, etc. for clean up crew that live in the Bay, both in the tank and sump, and just about any critter that comes in on the rocks and shells (fish will not be introduced for 6 weeks after the tank cycles).
I may try my luck at some of the other species of fish too eventually, maybe even a spotfin butterfly fish if I'm lucky. Eventually, I'll bring the tank to nearly full salt, but it will be on the saltier side of brackish to start
Biological Filtration:
Live sand and the oyster cultch structure that I built.
Ecological Simulation:
The Chesapeake bay is brackish and the salinity varies based on rainfall and runoff, but these fish have bred in captivity with a specific of 1.015 or so. Temperatures range from winter cold to brutally warm in the shallows of the bay, yet all of these fish thrive in this environment. Chasmodes bosquianus and the other fish are also found in Florida waters, so I don't think that temperature is an issue. Water parameters in the Chesapeake are constanty changing too, making it tough for sensitive species to thrive there. These fish live all year long with temperatures fluctuating from 40's to even upper 80's and salinity ranging from near fresh water to near ocean salinity in the Bay. Even the invertebrate species found in this biotope have to endure severe fluctuations.
Lighting:
I wanted an LED fixture that will grow macroalgae in the display. At one point, I was looking at the AquaticLife Edge, but went ahead and splurged, and purchased an EcoTech Marine Radion XR30w G4 Pro LED light fixture. My goal is to simulate as best as possible moonlight phases and seasonal lighting photo periods to try and induce spawning behavior, so I'm looking for a light that could do that automatically, and this one fits the bill. Plus, it should be a good light for growing macros. If I ever set up a reef tank, then I could also swap this light out for that purpose and buy a cheaper fixture for this set up.
Water Quality:
The sump will be used to cultivate macro algae for nutrient export along with my version of live rock. Eventually, I will bring this tank to near full seawater specific gravity. In that event, I think that most of the invertebrates will be hydroids, hardy anemones, tunicates, oysters, barnacles and mussels, and other filter feeders, but the early stages of the tank probably won't have any of those. Eventually I may use supplemental planktonic feed once the filter feeders are introduced. These inverts don't need as much light. In addition, the bay waters are pretty much mostly murky and filled with nutrients (both natural and, unfortunately, man introduced). Of course, frequent testing and water changes will be in my regimen to make sure that things go well. My main concern isn't so much the inverts here, but getting these fish to breed and thrive. If the biotope works out and I can keep all of these critters successfully, then so much the better Also, my other concerns include making sure that the life in the tank benefits from the amounts of nutrients at any given time (and I will have to chart and monitor what levels are best), at the same time having water clarity good enough to study the inhabitants. Top off water will come via using an RO/DI unit.
Current:
Another thing that I'd like to simulate is the tide and water movements, not lowering the water but currents. I'm purchased a Maxspect Gyre. Not only will this help keep the critters feeling at home, frequent current and no dead zones in the tank should help with algae control. There are plenty of algae eating snails and probably hermit crabs too in the bay. I can keep them well stocked in my tank. They should be easy to collect. Hopefully, the fish will leave them alone.
Other issues:
Another issue surrounds the collection of oysters. In Maryland, I have to be careful to collect in designated areas. Even though they aren't for consumption, I need to make sure that I'm compliant with local laws which change frequently. Another option would be to buy some fresh oysters directly from a waterman, right off the boat. It will cost me some money, but at least I'd know that I'm legal.
I think that in this system there may not be a wrong way to do it simply because these animals are so hardy. That said, I'd like to find a successful system and give these animals optimal conditions... This system won't have the color and beauty of a reef, but it will have it's own appeal. Actually, the male striped blenny sports some interesting color during spawning! If that happens then I'll know I'm on the right track.
The creation of this biotope is a goal, but having an accurate and complete one might be out of the question. The blennies are the feature fish, so those will be my main concern, and that is creating a good breeding habitat with the simulation of an accurate biotope.
I have no idea what problems I will encounter. Algae blooms are a primary concern, also perhaps parasitism... I've been collecting animals and have them in "holding tanks" that will serve as my QT mechanism for now.
Here are some pics of my build so far:
Tank: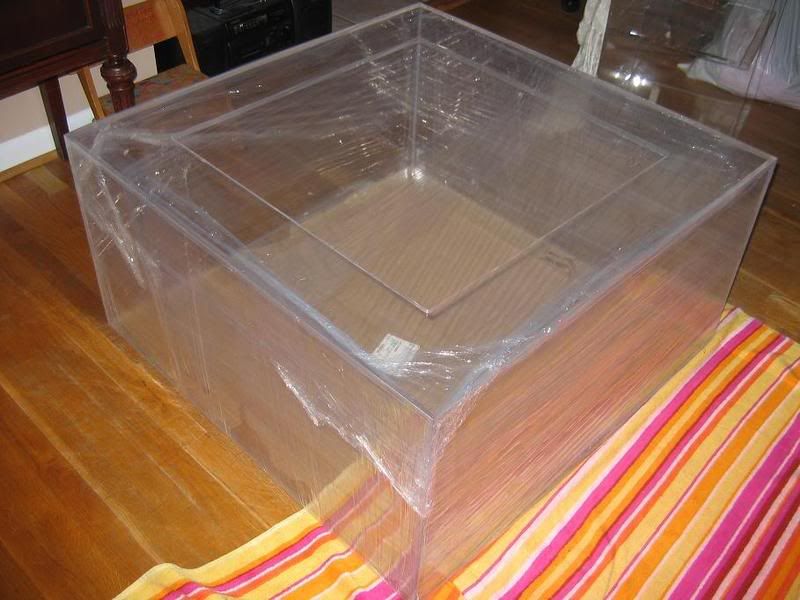 Stand (unfinished):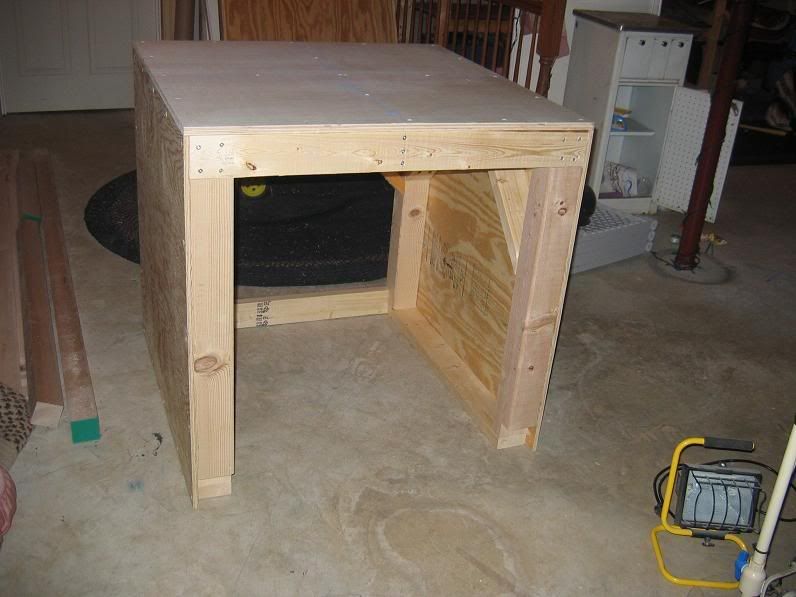 Sump: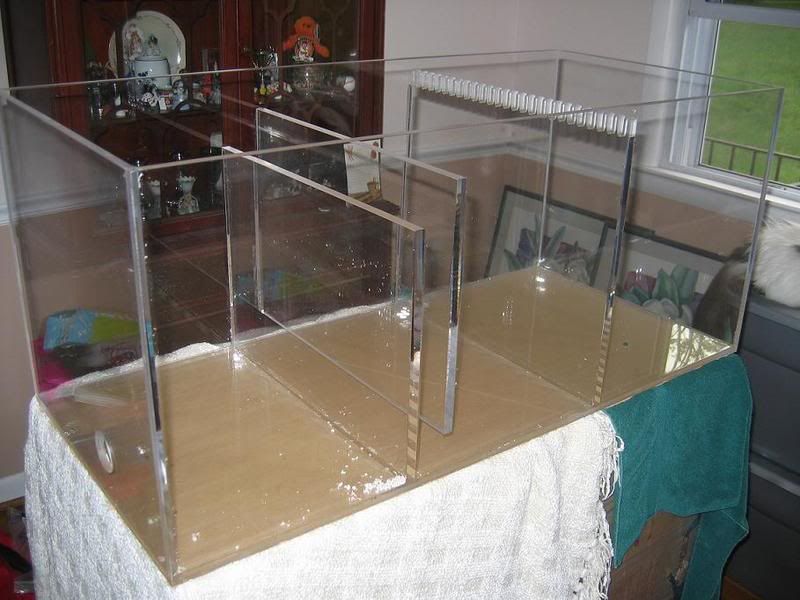 Next up, the aquascaping project...building an artificial oyster reef.